Our Story
Frederick Landscaping has been shaping landscapes in the Jackson Hole area since 1976. Company founder Bud Frederick created a strong reputation based on years of quality work and customer service. Sam McGee started with the company in 2000 and went on to take over ownership and operation with a determination to maintain that reputation.
Our Mission
We want you to feel drawn to the outdoors. We want you to turn off the news and stroll around your property with a smile on your face. We want you to enjoy your landscape so much that you want your friends to experience it and we want you to enjoy every aspect of the planning and construction phases as you work with our team. Our mission is your happiness outdoors in your own space!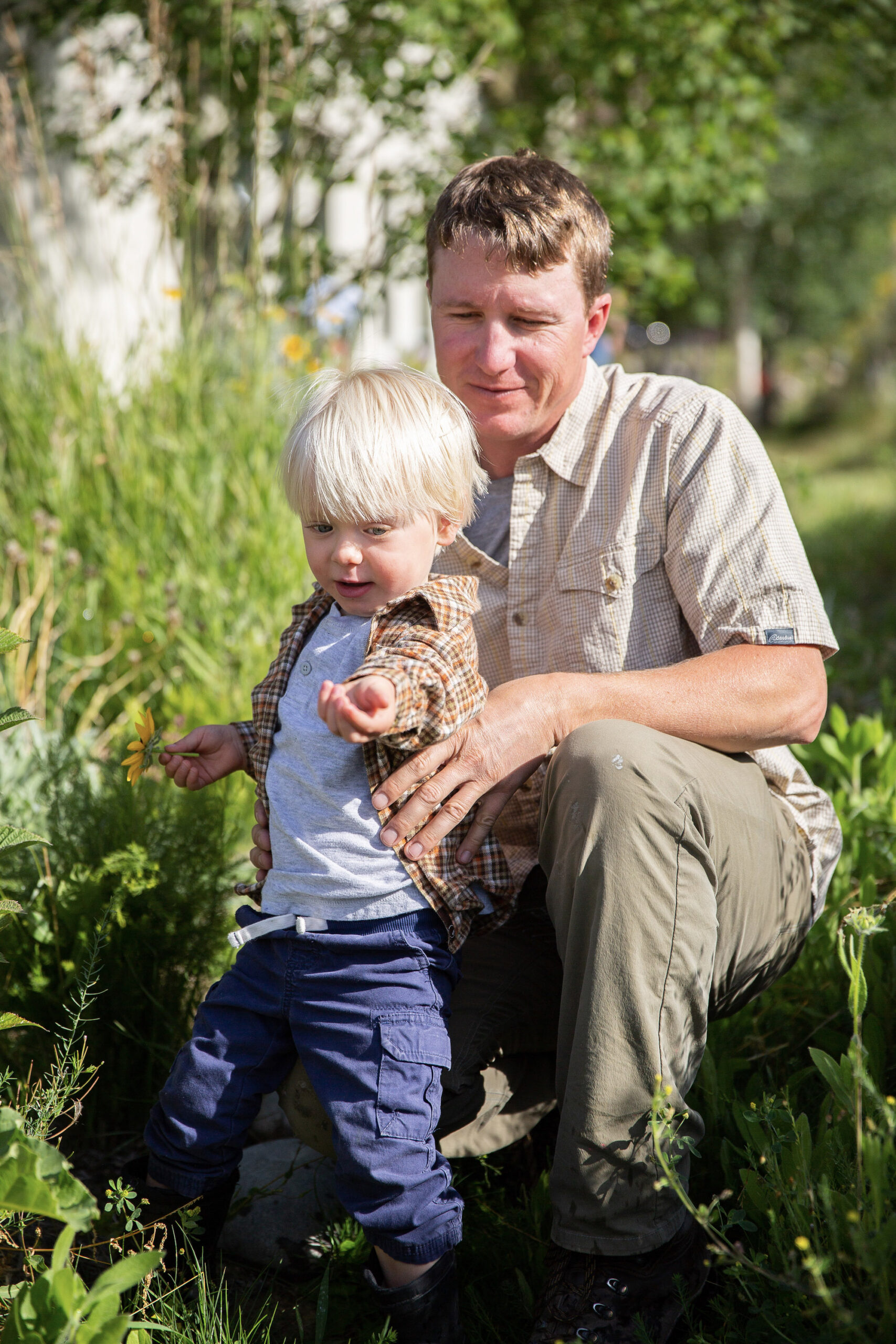 I never take for granted that I get to live in one of the best places on this planet and I'm always thankful to get to work with fabulous clients who share my dedication to quality and creative craftsmanship.  Some of the country's best builders and architects practice their craft in Jackson Hole and I am proud to build landscapes that enhance the surroundings and complete the bridge between craftmanship and nature.
One of my favorite aspects of this business is brainstorming with clients to design beautiful and functional landscapes that are creatively customized for their space.  Getting to know each client along with their specific landscaping needs and desires helps us reach our goal of crafting outdoor spaces that make people smile every time that they're in them.
I am grateful to have the most talented crew of hard-working valley residents possible on the Frederick Landscaping team.  Every project, no matter how big or small, is important to us and we all carry a tremendous amount of pride in our final product.  We treat everything we do as if our reputation is on the line and we look forward to each new challenge.  We pay attention to the details.  These things separate us from our competitors and truly makes us specialists in our field.  We'd love to help you build your dream today.
Sam McGee, Owner & Operator
We were so thrilled with Frederick Landscaping! They were on time, communicated well, were patient with our decision making and gave us an accurate estimate. The project was individualized with all of our wants, needs and budget in mind. The crew was extremely respectful while on site and went above and beyond to be kind and inclusive to our children. Basically they checked all the boxes. Highly recommended!
If you want your yard not just spruced up but literally transformed into a work of art then you want to have Frederick Landscaping do the job. Sam has an eye for "yardchitecture" , he can literally turn dusty old pasture into lush green grass with trees and a babbling water feature. He has an eye for making everything fit and look natural, so natural the animals are fooled and think Mother Nature put it there. If you are fortunate enough to have Bud work on your project then you will watch a master at work, I spent a good amount of time pestering him as he tried to work just so I could learn more about plants and trees and the area in general. Believe me when I say you will enjoy having the crew work on your yard and actually miss them when they are gone. They are all respectful, enjoyable, hardworking folks who take an interest in making your project perfect for you. If you want your neighbors jealous of your fantastic yard, hire Fredrick Landscaping then sit back and enjoy!
I had the pleasure of working with Sam McGee, owner of Frederick Landscaping, and his great team in the summer and fall of 2015 to landscape and irrigate my residential lot. I can't say enough good things about the top caliber work provided by Sam and his crew. Simply the best of the best. Sam is so professional. He was always prompt for our planning appointments and came prepared with related plans, proposals and cost estimates. Once the work began, Sam and his crew worked incredibly hard for long hours to prepare my lot, and then expertly plant trees, shrubs, sod and native grass seeding, and install decorative gravel, stone walkways and stone accents. Throughout the weeks the crew worked on my lot, they were professional, courteous and knowledgeable. Their physical strength and cohesive team work was impressive. I would heartedly recommend Frederick Landscaping for any landscaping project. But reserve their time well in advance. They are in high demand.
The yard looks just stunning!! I am very happy with the way it turned out. Thank you and your great crew for transforming my backyard.
We had the pleasure of working with Frederick Landscaping to create a shade garden and a stone patio. These projects were completed in two phases over two summer seasons. The professionals at Frederick Landscaping were timely, efficient and masters of their crafts. Their unique vision for creating an eye appealing and functioning outdoor space were excellent. It is so important in the Lodging industry to make a great first impression with curb-appeal that can translate to online images. The additions by the Frederick Landscaping team make our property inviting, charming and unforgettable. With that said, functionality is important for the ease of daily guest use. We could not be happier with the durability and functionality of the stone patio and walkways. Our favorite part of this Jackson Hole Landscaping team was how friendly and a joy to work with they are. We remained open during most of their work and the crew was polite and friendly with our guests and their many questions. We will definitely use them in any future projects, as well as, recommend them to our friends and family!
We relied on Sam McGee and his Frederick Landscaping team to transform our property in anticipation of our daughter's wedding reception that was held at our home in Jackson. I can't say enough about how positive our experience was. The quality of the craftsmanship was exceeded only by the reliability and personal appeal of Sam and his entire crew. If we called a meeting at 9am, Sam was there at 8:45, every time. A full crew started work early every morning and they were hard at it throughout the day. Every member of the crew was courteous and genuinely friendly, as well as qualified, and they had the right heavy equipment for every job. Every project requires coordination with other vendors – architects, tree specialists, construction companies and property managers. Sam led our project and his coordination really enhanced the service provided by all other vendors. In summary, the total value provided by Sam McGee and his Frederick Landscaping team was exceptional. I would recommend them to anyone looking to improve the aesthetic appeal and the livability of their property.
During the Spring of 2010 and 2011 we had the pleasure of working with Sam McGee and his crew at Frederick Landscaping as they transformed our house's landscaping. Sam's creative design of our water feature, patio, firepit, copper planter boxes, driveway address sign and flower beds has led to many enthusiastic compliments from our friends and visitors. Sam's attention to detail is second to none and he is always on the job site to make sure the work is done properly. He was also very flexible in making changes and additions to the project. We have also been very impressed with how Sam stands behind his work and responds immediately whenever there is an issue or a need for followup work. We do not hesitate to recommend Frederick Landscaping to anyone who is looking for a quality contractor.
Words cannot express our gratitude for what Frederick Landscaping did for both City Kids and our crew last week. It's people like you and your team that make us feel so positive about the work we do and the places we visit. Please thank each and every one of your team members for their efforts. You helped make our Jackson Hole experience so enjoyable! I sincerely hope that we will have the opportunity to work with you again on future projects.
City Kids Wilderness Project Summer Camp
We enhance accessibility to nature for your enjoyment while remaining environmentally conscious and appealing to your potential "local visitors".